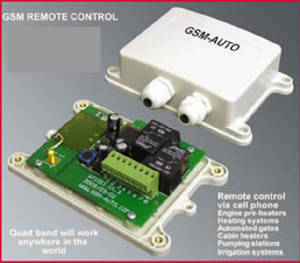 This unit operates on the GSM cellular network – similar to what AT&T uses. You simply install a SIM card in the unit programmed by your cell phone dealer and you're ready to go! You can easily add a line to your existing cell plan in many cases for $9.99 a month or even less. The remote switch will even work with some prepaid cell plans – keep in mind though, that these prepaid plans may cost you more in the long run, since many of them require that you purchase additional time every few months, even if you don't use any minutes.
The GSM Remote Switch is turned on by calling it – from any phone. It doesn't use any minutes because it doesn't answer the phone – it looks at the Caller ID of the incoming call and if it recognizes it, it will reject the call and turn on the remote switch. It can be preset to stay on for up to 18 hours. As an additional safety feature, it can also be programmed to ignore calls if it does not recognize the caller ID. Customizing and programming is simple – it's done by send it text messages.
The best part is the price, as it retails for about $199.00. Of course, it is not 'plug-and-play'; you'll have to add a few components to the system to adapt it for use with your preheater. However, if you're handy, you'll find that this is an economical solution that has many more features at a cheaper price than anything else out there.
Feel free to
contact us
if you have any questions about this product.