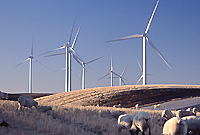 Each utility company has a list of electric suppliers that they work with that are vying for your business. And each utility works with at least one renewable energy supplier. You have a right to purchase your electricity from a supplier of your choosing and the utility company is required to deliver that energy to you.
By actively choosing a renewable energy supplier, you are doing your part to ease our country's dependence on foreign oil. And in many cases this choice doesn't put a dent in your wallet. For just a penny or two per kilowatt hour more, you could be using electric generated completely from sources such as water, solar, or wind power!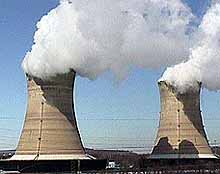 Of course, NOT making a choice has its consequences also. If you don't pick an energy supplier, the utility will pick one for you. And in most cases, the ones they choose generate electricity from coal, gas, oil, and nuclear fuel!
You also have built-in safeguards if the energy supplier you select is not able to deliver the power you need. In those very rare instances, your utility company will automatically send you power from an alternate supplier until your supplier of choice is able to continue supplying your energy requirements. The bottom line is that there is NO downside to making the switch to renewable energy!
So, if you're ready to do your part to get the oil monkey off our country's back, contact your utility company TODAY and make the switch to clean, foreign-oil-free renewable energy!
To make things easier, we've included links to the energy selection pages of our three local utility companies below. Simply find your electric company, click the link, and you're on your way!
SOME THINGS TO REMEMBER:
1. Be careful when choosing your energy supplier. All of these utilities give you the option to buy energy 'credits' or 'shares'. This choice does NOT represent a switch to renewable energy; it simply is a way for you to 'invest' in the production of renewable energy in the future. If you choose to purchase energy credits, they are IN ADDITION to your regular energy bill. You will still be using electric generated by fossil fuels.
If you want a suggestion, you might want to consider switching your supplier to ConEdison Solutions (http://www.conedsolutions.com). This is the easiest way to switch to renewable energy. They work with small customers as well as large ones; the sign-up process is simple, and it is offered by all three utilities (and no, we don't make any money by suggesting them to you!).
Lastly, please feel free to contact us if we can help you with any questions about switching suppliers. We're always glad to speak with you!